BI-MATIC
Used Dynamic 4.5 TS Edgebander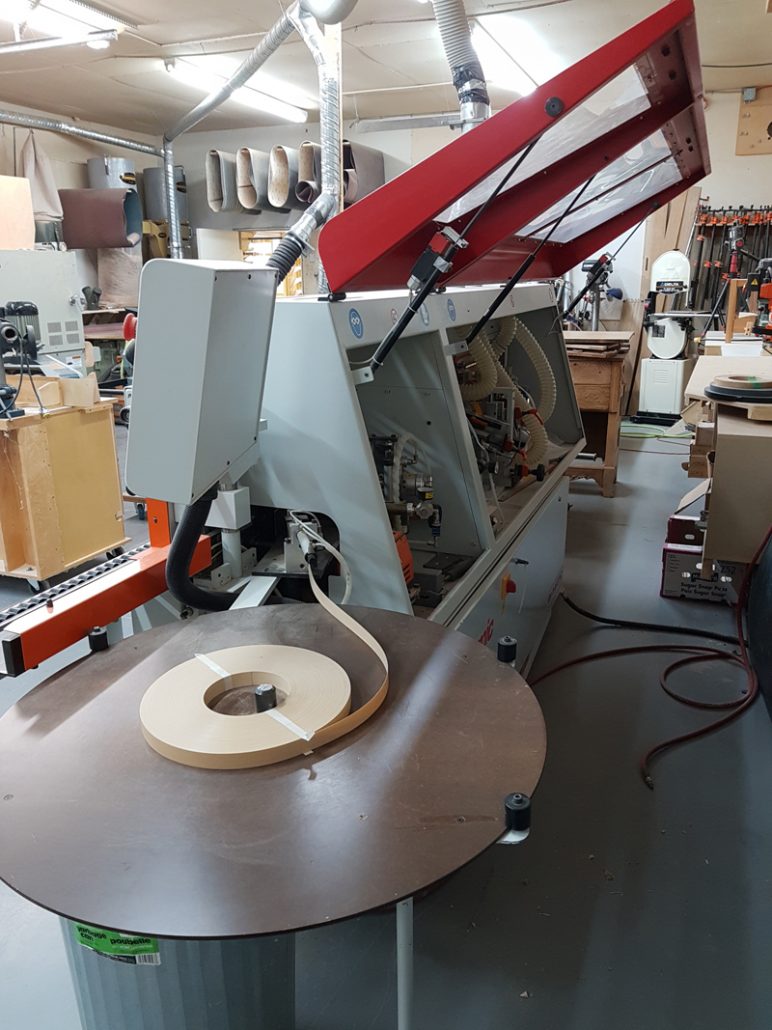 Features
Especially designed for the application of veneer, PVC, ABS, melamine and solid wood strips from 0.4mm up to 5mm of thickness.  The machine is composed as follows:
All working units mounted on 15mm thick steel plate.
Solid Steel Fence: 680mm L x 20mm W x 60mm H
Heated fence 0° to 90° with control mounted below fence at end of base.
Teflon Coated Lower Glue Pot
With quick heating time
(Approx. 5/6 minutes) Glue pot capacity is 3 Litres.  Use granulated glue.
Manual movement of glue pot (via handle) in/out of glue line
(Apply or not apply glue on panel edge)
Includes- glue screw roller device
for applying more glue for long panels in continuous production
Coil magazine @ 800mm diameter
Automatic wood strip magazine for edge thickness from 0.4mm up to 5mm c/w Spiked Feed Roll
Vertical shear for cutting ABS and PVC up to 3mm thick and 64mm width, with vertical movement and horizontal copying movement.  The function is electro-pneumatic
Pressure roller zone composed by nr. 03 rollers.  The first pressure roller (100mm Dia.) is steel and motorized.  The other 2 idle rollers (60mm Dia.) are with opposing degree tilt for a perfect pressing.  This unit is equipped with manual movement with a digital counters
Automatic adjustment of the top groups (When adjusting the pressure beam )
7" Touch Screen Control Panel
Sets temperature of glue heat requirements
Sets lower temperature in stand-by mode when machine not in use (glue will not burn)
Enters values for activation of coil cut-off system, leading/tailing edge cutting for end trim saw
Saving working programs
Displays feed speeds
Displays number of pieces processed
Displays error codes
Displays number of working hours
Line Control Feed System
A line control system ties the activation of the spiked roller, guillotine, & end trim saws to the computer/encoder.
The operator can then easily, accurately, and quickly make adjustments through the control panel (no micro switches to adjust)
All our production are assembled right hand.
Feed on Left / Work stations on Right – When standing at feeding end of machine.
CE standard security.
CSA components.
Provincial electrical inspected.
Working Units
Vertical End Trimming
With two 0.75HP motors at 12,000 rpm, workpiece unit 70mm minimum length (with maximum 5mm edge thick) 2 dust outlets @ 40mm dia. each.
Saw chamfer from 0° to 15°, the chamfer is made pneumatically from the control board with a selector switch. Tool details: 2 – circular blade Ø 85mm.
Panel width: min. 08mm – max. 60mm
Edge thick: max. 5 x 64mm
Dynamic Tiltable Edge Trimming Unit
With two .75HP motors at 12,000rpm.
Vertical and lateral rotating tracing wheels.
The unit is manually adjustable, tiltable from 0° to 15°.
Quick set device for different banding material thickness, up to 3mm.
The unit is complete with 4 numerical counters for the vertical and horizontal adjustment.
Dust outlets @ 60mm each.
The unit is equipped with combination R=3 tools
The exclusion/insertion of the unit is manually adjusted.
Panel width: min. 08mm – max. 60mm
Edge thick (wood strips): max. 0.4mm – 5mm
Edge thick (coiled material): max. 0.4mm – 3mm
Dynamic RPC Scraping Unit:
To remove and clean the knife marks. Vertical and horizontal ROTATING tracing wheels with tools R=1, R=2 or R=3.   The exclusion/insertion of the unit is pneumatically controlled from the control panel.  4 digital counters are installed on the unit for a precise adjustment of the lateral and vertical tracers.
The dust outlet Ø 60 mm diameter with a chip box for collecting the excess scraped pvc has a separate dust port.
The liquid sprinkler helps the cleaning operation for any excess of glue on panel edge.
Buffing Unit
With two 0.35HP tiltable motors.
The unit is equipped with 2 buffing wheels Ø 100mm. (4 to a set)
Specifications
| | |
| --- | --- |
| Edge thickness coil | 0.4 – 3 mm |
| Edge thickness strips | 0.4 – 5 mm |
| Min. panel thickness | 10 mm |
| Max. panel thickness | 60 mm |
| Min. panel width | 90 mm |
| Min. panel length | 60 mm |
| Feed speed | 11 + 18 m/min |
| Air pressure | 85 Psi |
| Feed motor | 1.21 kW |
| Noise level | db72 |
| Electrics | 230/3/60 (Approx. 37 AMPS) |
| Total installed power | 10 kw |
| Dust port | 2 x 150mm dia. |
| CFM requirements | 1500 CFM (Approx.) |
| Machine weight | 1300 kg (Approx.) |
| Machine dimensions | 3200mm x 790mm x 1500mm |
| Shipping weight | 1800 kg |
| Shipping dimensions | 3400mm x 900mm x 1700mm |
Machine Details
Condition: Like New
Serial No. 5410
Year of Mfg: 2008
Electrical: 230/3/60
Listing Number: EB BIMDYN4.5TS-C1-120919